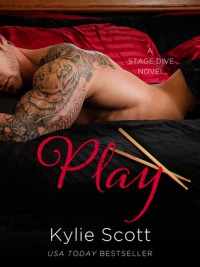 Amazon-->
Play (Stage Dive Series Book 2)
He's kind of like a puppy on steroids.
Mal's got some sort of psychotic Peter Pan thing going on.
And while he's sweet and entertaining, I'm not sure if we really got to know the real Mal.
Mal's the kind I avoided in my single wild days, no matter how hot. Guys like him scared me, I didn't get their humor. I like the quiet, brooding type.
Mal's quirks seemed to play well with Anne's and he obviously cared for her very much and was very tuned to her...needs. Ahem.
You're good for me. You take me any mood I come in. I don't have to be always happy or on around you. You roll with any shit I say and give as good as you get.
It was really well written, with casual dialogue, interesting and funny inner thoughts.
The story had a nice sort of slow burn and good integration with the series.
I liked the few, quiet, tender fingertip moments,
but mostly Mal is just a goofy puppy who needs luuurve.



4 star story, minus 1 star for typos (7)
and for overuse of "the seams of my sex" (3) and "the lips of my sex."(3)
Perhaps, if you imagine Mal like this;
It would be easier to understand him?
[bc:Lick|17983690|Lick (Stage Dive, #1)|Kylie Scott|https://d.gr-assets.com/books/1369705533s/17983690.jpg|25216800][bc:Play|19080006|Play (Stage Dive, #2)|Kylie Scott|https://d.gr-assets.com/books/1407154296s/19080006.jpg|25758268][bc:Lead|19286623|Lead (Stage Dive, #3)|Kylie Scott|https://d.gr-assets.com/books/1396467599s/19286623.jpg|26116272][bc:Deep|18461986|Deep (Stage Dive, #4)|Kylie Scott|https://d.gr-assets.com/books/1397676461s/18461986.jpg|26116275]
Dave/guitarist
Mal/drummer
Jimmy/singer July 2014
Ben/bass guitar Dec 23, 2014
I was not given a free copy in exchange for an honest review.